A collection of various Baby J posts:
Do You See What I See?
It's Christmastime and that means lots of
Baby Jesus!
They are everywhere - big, fat, blonde-curled, well-fed non-Jewish-looking Baby J's.
Check out these Fabulash Baby J:
What happens when Satan, I mean, Santa, meets his Christmas nemesis, Baby J?
'when are you going to get that Christmas is about me now?'
Baby Opie Jesus! He's the redheaded stepchild of Mary and Joseph:
Are they making him lay on a doormat made out of spaghetti?
Oh, this poor Baby J has a black eye and is held aloft by a giant!
We have the dresses for the baby Jesus in our store. We will have more dresses and sizes and chairs coming soon! This Niño Dios has brown glass eyes . the diaper comes in shades of beige.
I don't know where that store is, but gift cards would be an appropriate lethal gift ...
This one has a nice french manicure and is wearing a brass hat!
Oh wait, it's a halo! I want one (the portable halo, that is.)
And despite Proposition 8,
some
Baby Jesuses did come out of the closet this year:
He is known as the "Divino niño" and indeed he is Divine!
This just looks painful:
Like chicken in a basket, but with Baby Jesus:
And I debated for a few seconds about whether to post this one at all, because it's one of the most frightening things I've ever seen:
THE HORROR!
Baby Jesus of the Week
Look at beautiful little Baby J and his precious blond curls! And his cherubic cousin, John the Baptist. I shudder to think of what would happen to that gorgeous head of hair!
I don't know how Mary stays so relaxed and glamorous with two kids on her lap. Speaking of Baby J, it's been far too long since I searched one of my favorite Ebay terms,
"Baby Jesus."
Oh good heavens:
"Vintage Large Molded Latex Baby Jesus"
"Vintage"
"Old"
Don't get any funny ideas about using this one outside during the holidays:
Back of manger is marked "Artistic Latex Co., Form Co., Inc NY." I was told that these were used in stores to display during the holidays and were for indoor use.
Artistic Latex!
"Isabel Bloom Nativity Baby Jesus Retired Signed"
Oh! The horror! Jesus is far too young to retire, or sign his name. Obviously a fake.
But you ain't seen
nothing
yet. My mind is in smithereens over this "Vintage style" concotion, where Baby J seems to have gone fully to "the other side" before taking a trip to India:
"Unbeatable A Master piece! Hand Made and Hand Painted!! We get only one statue in a week from manufacture. Please pay ASAP. Part of the profit goes to charity and humanitarian work. Please do not hurt our ministry by deceive us. The items are religious and ritual purpose. Please be honest with us. We are try hard to support a Christian ministry."
This one reminds me of Bette Davis in "The Virgin Queen":
Why do I do this to myself?
Scariest Baby Jesus Yet!
put some clothes on me!
Baby J's of the Week:
Y'know, we only say "Happy Birthday Baby Jesus" at xmastime. But now that he's a month old and all, let's see what Baby J's are out there.
Fetal Alcohol Syndrome Jesus? That head does
not
look right.
South Park Baby Jesus?
My friend calls this "The Dusty Springfield Jesus."
And the best of all, from "PolandbyMail.com" - large, blonde, blue eyed
and
sacred-hearted (already?) Baby J!
"I keep telling you Jesus - you are far too old to be boxing my ears!"
Chocolate Jesus and Saints:
Hey, the Chocolate Jesus returns - and with some new pals. Sounds like they've already suffered some persecution, being nibbled at by mice and all:

The exhibit, at the Proposition Gallery in Manhattan, will be accompanied by a set of chocolate Catholic icons created by Cavallaro, a group that includes the Virgin Mary and saints Francis, Augustine, Michael, Jude, Anthony and Fermin.

"After the cancellation of the show, it got me to look into the Catholic religion a little deeper," Cavallero said. "I started thinking about the saints, how they were ostracized for their beliefs and then canonized."

Cavallaro's work features Christ with outstretched arms, as though hanging from an invisible cross. Unlike traditional religious depictions of Christ, Cavallaro's Jesus lacks a loincloth.

The sculpture is actually a new version of "My Sweet Lord," created with 200 pounds of chocolate over three days. The original was stored in a Brooklyn facility where mice nibbled away at its hands, ears, nose and feet, forcing Cavallaro to toss the original and recast the sculpture.
(Sure it wasn't Saint Vermin?)
Let's break down this little Whitman's Sampler of Catholics and see who's who, with assorted flavor guesses:
St. Francis:
He of the animals. He fed poor people and wasn't even really a monk, but the Church pretended he was after he was dead so they could keep him in the family. You know he's deliciously sweet milk chocolate from Italy.
St. Augustine:
No, not patron saint of retirees. St Augustine of Hippo (which is what you'll become if you eat a lot of chocolate saints) "framed the concepts of original sin and just war. In addition he believed in Papal supremacy." No! He's obviously the hollow, milk-chocolate version with blue sugar-candy eyeballs.
St. Michael:
He's a badass: his name was said to have been the war-cry of the angels in the battle fought in heaven against Satan and his followers. My guess is bitter chocolate.
St. Jude:
Patron saint of lost causes and those who put "thank you St Jude" ads in the back of newspapers. Most likely old, crumbly Russell Stover-variety with some undefined pink-creme filling that an aging relative would give you.
St. Anthony
: Patron saint of lost keys. And he hangs with the Baby Jesus! My personal favorite and probably filled with a luscious hazelnut cream, like "Baci" candies.
St. Fermin
: I've never even heard of him! "Fermin is the co-patron of Pamplona, where his feast, the 'San Fermín', is forever associated with the Encierro or 'Running of the Bulls' ... martyred (traditionally in 257 AD), by being tied to a bull by his feet and dragged to his death" - ouch! You know he's one of those icky cherry-filled gloopy candies you see at the store, but never buy, because it looks like drool.
The Virgin Mary:
Oh come on, you know her! The purest of chocolate with a grace filling, natch, however, it contains heavy preservatives: "Roman Catholics believe in the Immaculate Conception of Mary, namely that she was filled with grace from the very moment of her conception in her mother's womb and preserved from the stain of original sin." On that note, it will not stain any clothing.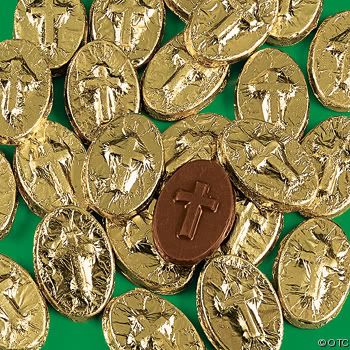 Some Random Infant of Pragues (IOPs)
I was watching Green Acres last night and there was a running joke about Imperial Margarine - whenever Oliver took a bite of toast, he got "crowned." Of course I immediately thought of Mark playing "Imperial Margarine" with his grandmother's Infant of Prague's crown. I haven't looked up Baby J's or IOPs on ebay for awhile and this was the first thing that came up!
INFANT OF PRAGUE PLASTIC CROWN OR KING'S CROWN FOR DOLL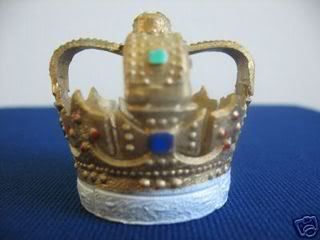 Up for auction is this estate find crown for the Infant of Prague statue or could be a king's crown. It is plastic but if you are missing a crown this would look nice.
Dammit! I have been missing a crown and this would look great.
With a description like this, you know I had to look:
Infant of Prague Gown-Mint Green/Emerald-EMBELLISHED!!
The color of the reversible cape is a beautiful sequined Lime green on the outside, and the inside is an emerald green satin embellished with hand-beaded rhinestones and lime sequins, and the mint green gown has hand-beaded and sequined lace trim, with a beautiful embroidered starburst with IHS in the center..........FABULOUS!!
Check out the IOP/Liberace relaxing in the comfort of his own home: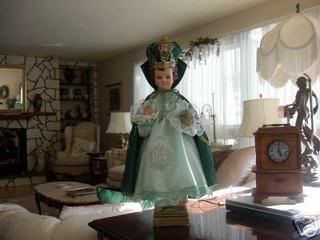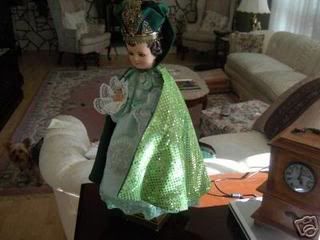 How could I not look at one owned by a nun?
Nuns Vintage Dressed Life Like Infant Of Prague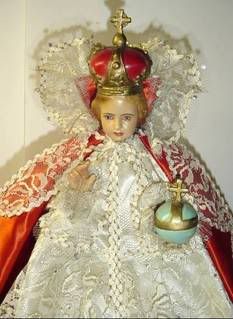 Look at his scary bloodshot eyes ... he wants to kill you!
It is a beautiful life like Infant of Prague. Look at the love in His eyes. He is wearing a cream color satin and lace dress. With a beautiful under slip. The cape is a red satin. There are clear jewels all over dress and side of the cape. He also has paper wrapped around His base so His dress looks full. I have left as found ... This is a charming piece's for those that appreciate the older Catholic items.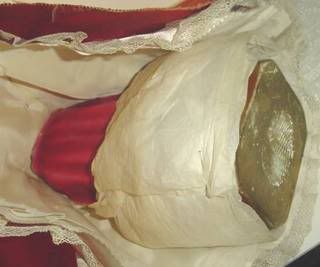 Oh my god! That is just wrong, wrong, wrong.
THE I.O.P. SHRINE
When I was moving to LA, driving through Oklahoma, I spotted a sign: "Infant of Prague Shrine." Now, you know I
immediately
made a (brief - the pup being in the car, but it was February) detour and dashed inside. The ex-hub, to his credit, did have a sense of humor, which is why I married him ... thought I wouldn't recommend
marrying
anyone because their favorite Stooge is also Shemp. In fact, he (the ex, not Shemp Howard) even called me after we divorced as he was driving x-country again to tell me, "I just passed that Infant of Prague Shrine again!" But I digress. An IOP shrine in Prague, OK - huh? When I told the woman behind the counter that I was from Boston (holy of holies! second only to the Vatican!) she said, "There's not many of
us
here." I'm sure. I gotta join "The Association of the Infant Jesus of Prague." I want a throne of gold! The IOP is such a queen.
National Shrine of the Infant Jesus of Prague

At the National Shrine of the Infant Jesus of Prague, thanksgiving and honor are given to Jesus Christ in his humanity.

The history of the devotion to the Miraculous Infant Jesus of Prague dates back more than four hundred years when a statue of The Holy Infant in the guise of a king* was brought to Prague, Czech Republic. It was a precious souvenir of Maria Manriquez de Lara, a Czech nobleman, in 1556. Because of the many miracles that occurred when people prayed to the Infant Jesus, a great devotion arose and has spread throughout the world. Statues of the Infant Jesus of Prague are found in churches and homes everywhere.

Devotion to the Infant Jesus of Prague were brought to Prague, Oklahoma, by Rev. George Johnson in 1947. Father Johnson credited the construction of the new church to the intercession of the Infant Jesus of Prague. Keeping his promise that he would establish a shrine to the Infant Jesus of Prague in the new church upon its completion, Father Johnson set a statue of the Infant Jesus of Prague "on a throne of gold" back of the main altar.statue

As the Iron Curtain fell around the communist countries of Eastern Europe, the faithful were unable to communicate with the Shrine in Prague, Czechoslovakia. Responding to the requests of the people, the Shrine in Prague, Oklahoma, was designated "The National Shrine of the Infant Jesus of Prague." Since this time, people from around the world have been accepted into The Association of The Infant Jesus of Prague, and public devotions to the Infant Jesus have been offered. Each month a Novena of prayers are offered on the nine days from the seventeenth to the twenty-fifth. The Sunday that falls between the 17th and the 25th is designated "Pilgrimage Sunday", and the public is invited to come to St. Wenceslaus Catholic Church and the National Shrine of the Infant Jesus for additional Prayers and benediction.

The Shrine is open daily from 7:00 a.m. to 7:00 p.m.

Self-guided tours are available during opening hours - Special group tours, by appointment.

A Gift Shop is open Monday- Friday, 9:00 a.m. to 3:30 p.m. which offers an array of religious items.

The National Shrine of the Infant Jesus of Prague
4th and Broadway, Box 488
Prague, OK 74864
*they obviously meant "queen"
Baby J's of the Day
sometimes i go to ebay and search "baby jesus." today brings a veritable bonanza!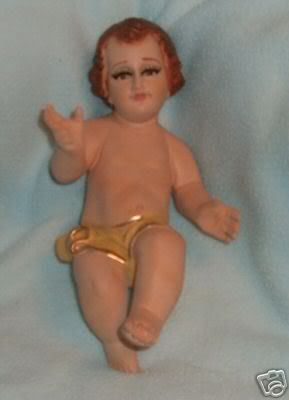 mexican baby jesus. nice eyelashes, kid. that gold lame diaper makes it!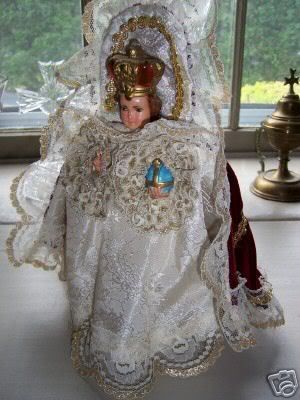 lawdy miss clawdy! infant of prague or queen elizabeth I?
you can find more pix of it in all of its queenly glory
here.
the description is great:
"DRESS IS CLEAN AND CRISP" "THIS IS A BEAUTIFULLY PAINTED AND DRESSED INFANT IN A MANAGABLE SIZE - JUST LOVELY. A VENERABLE OBJECT OF DEVOTION."
manageable size? as opposed to an unmanageable infant of prague?
by the time the Baby J gets hummel-ized, he's turned into a ceramic glazed blonde kewpie doll, wearing a white bathtowel for modesty: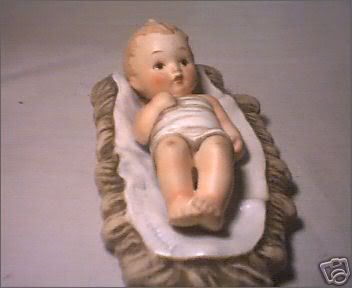 what on earth is a "liquinet inc. baby jesus"? is that some kind of hairspray brand? all i can say to this one is, "jesus christ!"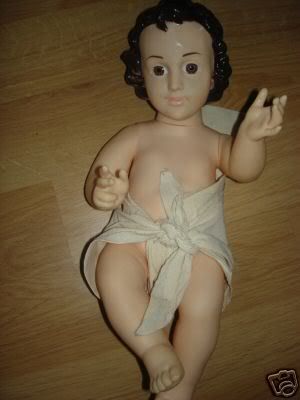 "PERFECT FOR THAT CHRISTMAS PLAY OR OTHER RELIGOUS SITUATION. HE LOOKS SO GENTLE AND WISE."


yeah ... "other religious situations." or rather, "RELIGOUS." i've never heard of "christmas play" but then again, new fetishes continue to surprise me.
extra gowns! a slip! lace crinolines!
ok, now i can't stop.
"Here is a Vintage Infant Of Prague Figure with a fabulous jeweled crown and extra gowns. It is plaster and beautifully painted with blue glass eyes. This figure is wearing a fancy gold and white lace cape and gown over a white satin slip, also included are five extra gowns for holidays and a lace crinoline. "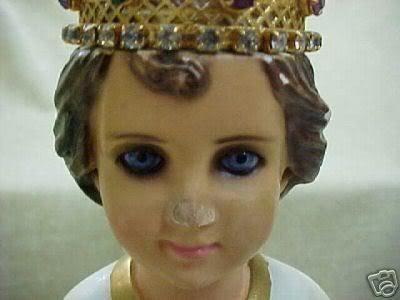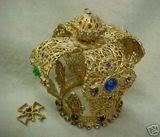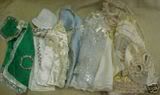 wow -
hide and go seek IOP?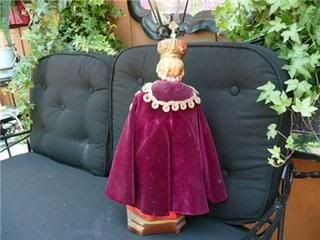 "ready or not, here I come!"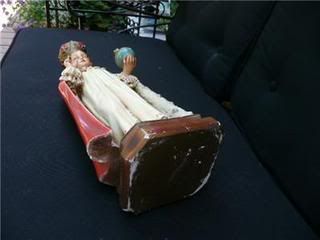 "they'll never see me here!"
"He has lovely detail and has a removeable purple velvet cape trimmed in gold as well as his chalk one. The cross on his crown is loose but intact.Some loss of paint on back of head fingers tip of nose and back of vestment as shown."
They also "use bubble and peanuts for safe arrival"
"bubble and peanuts!"
oh my. this is
just plain wrong.
The Baby J and the IOP
Oh, it's The Baby Jesus! I love The Baby Jesus ... look at his precious blond curls. I like to use "The Baby Jesus" as compliment or a nickname, like when I say to the pup, "You're just like The Baby Jesus, aren't you?" Or sometimes, as an adjective: "Aren't you just so Baby Jesus?"
Marky just emailed me:
My protestant neighbor gal asked me at age 7, "Is that Shirley Temple? "
Now, The Baby Jesus ain't no Infant of Prague - the ultimate drag queen! Marky's grandma had one that she'd dress up in appropriate religious-seasonal outfits.
(Mark writes: My Polish Gram would scream at us kids if she saw us messing with her Infant of Prague doll, and playing "Imperial margarine commercial" with his little crown on our heads. She'd yell: "That doll is NOT a toy!")
We also called the IOP "The Baby Jesus" but he was a different "Baby Jesus" than the blond cherub. A few years ago I came across an Infant of Prague shrine in, I think, Oklahoma. When I went in and told the woman I was from Boston, I thought she was going to genuflect. "There's not many of
us
here," she said to me in what I thought was a tone of relief. I stocked up on magnets and postcards.
The IOP statue in my parents' bedroom was one early source of OCD for me, because my mother told me that it was given to them as a wedding gift (can you
imagine
opening that present up? I would have screamed!) and were told, "Always keep a dime under the Baby Jesus and you won't end up in the poorhouse." I compulsively checked under the statue to be sure the dime was there and we wouldn't end up in the poorhouse.